Graduation Requirements
What do you need to complete your high school diploma?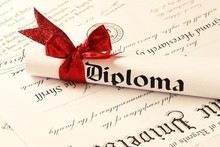 Here is a guideline to follow if you are interested in completing your diploma:
Come see us in person. It doesn't matter when you last completed a high school course. We can access your marks. We will work with you to achieve the prerequisites needed. Rules have changed - so will some of the courses you need.
If you are a mature student (over the age of 19 and have been out of school for 10 consecutive months), you could qualify for a high school equivalency diploma. Call us to see what we can do to help you!
Have a specific goal in mind with specific timelines. For example "I would like to complete my English 30-2 by January and enter a post-secondary institution in September." We're here to help you reach your goal.
To participate in Graduation Ceremonies at St. Gabriel Learning Centre all students must achieve the following:
1) Earn a minimum of 105 credits
2) Complete and meet the following credit expectations:
9 credits in Religious Education (RE15, 25, 35 or Religions of the World 30)
English Language Arts at the 30 level
Social Studies at the 30 level
Mathematics at the 20 level
One Science at the 20 level
Physical Education 10 (minimum 3 credits)
Career and Life Management (CALM) 3 credits
10 credits from career and technology studies (CTS) or fine arts or second languages or physical education (in addition to PE10) or locally developed/acquired and authorized courses in CTS, fine arts or second languages
10 credits in any 30 level courses (including locally developed) in addition to English Language Arts 30-1 or 30-2 and Social Studies 30-1 or 30-2
Some helpful information: 
The science requirement—Science 24, Biology 20, Chemistry 20 or Physics 20—may also be met with the 10-credit combination of Science 14 and Science 10.
 
Students may earn any number of credits in the study of second languages, but only a maximum of 25 language credits may be used to meet the 100-credit requirement for the Alberta High School Diploma.
 
30-level English Language Arts, 30-level Français or 30-level Social Studies courses from a different course sequence may not be used to meet the 30-level course requirement. Students may earn any number of credits in Work Experience, but only 15 credits may be used to meet the 100-credit requirement for the Alberta High School Diploma.
Notes:
For 30-level courses that have a diploma examination, the final course mark consists of a blend of the school-awarded mark and the diploma examination mark.
Mature students should consult the Mature Students section for applicable requirements.