Youth Ministry
Our Youth Ministers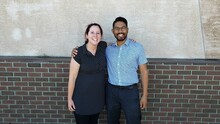 Virtual High School Youth Group
First and Third Tuesday of the month from 7:00 - 9:00 p.m. See link here.
Edge (High School Leadership)
Edge is a middle school Catholic youth ministry program that is filled with fun, games, prayer, and sessions based on the Catholic faith. High school students have the opportunity to be Edge leaders through formation and leadership training. This program is run through Red Deer Catholic Regional Schools and the parishes of Red Deer, Innisfail and Olds. High School leaders help run these events. 
Edge is every Tuesday on Google Meet.
RCIA
Want to know more about the Catholic Church? Didn't finish your sacraments and would like to? Rite of Christian Initiation for Adults (RCIA) is a program that allows teens and young adults to learn about the Catholic faith with fellow peers!
Upcoming Events in Youth Ministry